Spotlight: Roland Blues Cube Line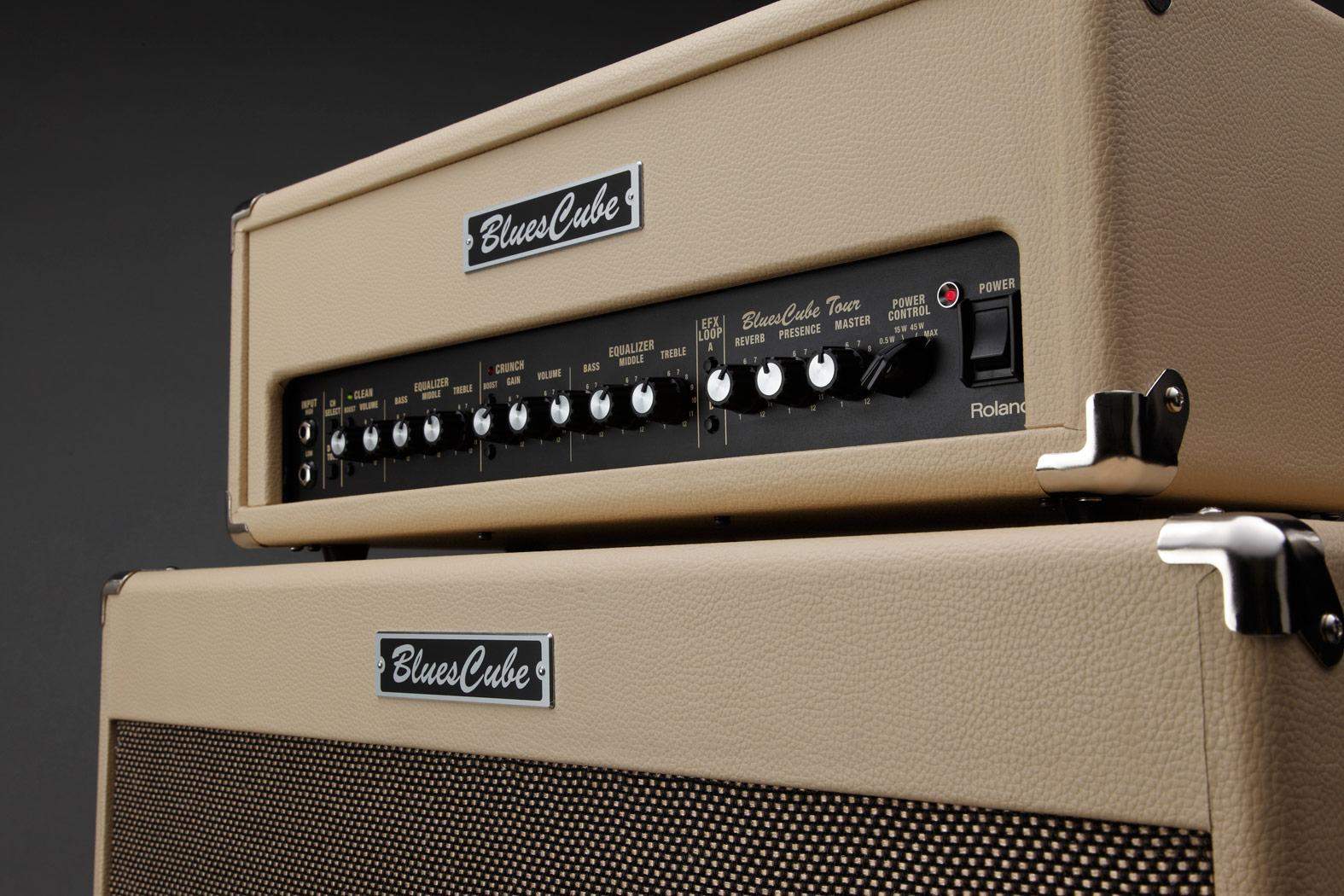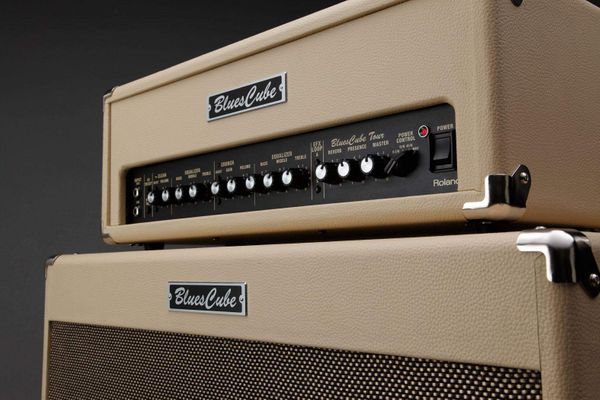 Roland's coolest amp line explained here at Soundskool Music:
Since the 2014 release of the Blues Cube amplifiers, Roland have been quietly changing the guitar world – turning traditional values on their head by producing a unique high-tech amplifier that delivers authentic vintage tone, feel and touch sensitivity comparable to the classic tube amplifier.
With the fast rise in number of cheap tube amps, guitar players are often all too happy to rely on the 40-year old mantra of "tubes are best" – when in fact, technology has come a long, long way since.
The head-turning tone and response of the Blues Cube amplifiers has garnered outpouring admiration from top-name artists such as Don Felder, Robben Ford, Eric Johnson, Kirk Fletcher and Jeff "Skunk" Baxter. These forward–thinking veterans realise the power and opportunity of combining old-world tone with cutting-edge technology.
"I've been playing through tube amplifiers all my life….. It is incredibly close to vacuum tube technology…so to think that Roland has come up with something that is as convincing as this. It's pretty impressive." – Robben Ford
"This is probably the best solid state guitar sound I've heard." – Eric Johnson
"This amp not only sounds like a vintage amplifier, but it WILL be a vintage amplifier." – Jeff "Skunk" Baxter
In this article, we'll walk you through the range of Blues Cube Amplifiers that provide astounding tone and tactility to guitar players who would normally never consider ANY amp that didn't contain those magic little glowing glass bottles inside. Along the way, we'll discuss the technology behind the Blues Cube amps that give each amplifier in the range their awe-inspiring tone and feel.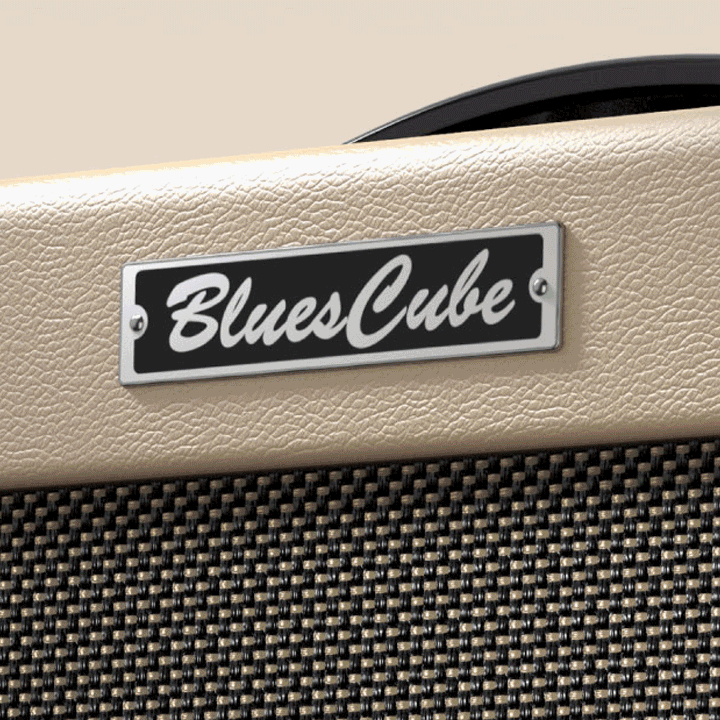 The "beating heart" inside each Blues Cube amplifier is Roland's Tube Logic technology. Tube Logic provides the user with authentic tube tone and touch response but with modern flexibility in a lightweight format.
Just like the classic tweed amplifiers of the 1950's, each Blues Cube amp carries its own unique personality that appeals to different players – meaning that every amp in the range from the diminutive Blues Cube Hot to the authoritative Blues Cube Tour, is a professional-grade amplifier worthy of any stage.
Before we delve into each of the Blues Cube's differing personalities, let's take a look at the technology and concepts that constitute the lifeblood of the Blues Cube amplifiers.
Contributed by Matt Walsham for the Roland Australia Blog
KEY FEATURES ON ALL BLUES CUBE AMPLIFIERS: TUBE LOGIC
Tube Logic is the driving technology behind Blues Cube amplifiers, and is in itself, the reason these amplifiers are able to deliver dynamic, powerful tube tone found in the most coveted vintage guitar amplifiers.
The Blues Cube engineers understand what every seasoned guitar player knows: The guitar amplifier is as much an instrument as a guitar itself. They have succeeded in making an amplifier that players can fall in love with. An amplifier whose notes bloom, sag, breathe, and roar in perfect response to the player's touch.
The Tube Logic journey began with Roland's engineers dismantling and carefully examining a late 50's tweed amplifier (regarded by many as the quintessential holy grail of guitar tone) in order to truly understand its circuitry. Through exhaustive playing, measuring and testing the minute electrical interactions within the amplifier, the engineers worked tirelessly to fully understand the physics and behaviour of these classic amps. Everything was analysed, from the input jack to the filter capacitors, rectifier, the phase inverter and all in between.
The final result was Tube Logic – a marriage of solid-state analog technology and DSP that goes way beyond modelling, and enables the creation of amplifiers that exhibit the precise behaviour and tone of a vintage tube amplifier using modern, reliable, lightweight technology.
POWER CONTROL
Blues Cube Power ControlThe output volume in a tube amplifier has an effect on the overall character of the guitar tone. Push the amp volume harder and musical elements of sag, compression and increased harmonic richness began to manifest.
For many players these characteristics are key elements toward making a guitar amplifier come to life. The trouble is when turning up a guitar amplifier to achieve these levels of drive and complexity; it gets very LOUD, very quickly.
The Blues Cube engineers have worked passionately to deliver the same character of an overdriven power amplifier but maintain control over output volume – all while keeping the response and harmonic tonal 'mojo'.
The Blues Cube's POWER CONTROL feature drops all of the critical internal operating voltages of the amplifier, to deliver a consistent, harmonically rich tone at a number of volume levels. This comes with absolutely no change in sound quality, or feel to the player.
Simply set the CHANNEL and MASTER volume controls on the amp to find the perfect level of drive, compression and harmonic bloom. Then, dial the power control in to a volume level that suits the playing environment. Every Blues Cube has a POWER CONTROL dial that selects between four steps of power, from MAX power all the way down to 0.5 watts.
REVERB / BOOST / TONE
To appeal to a wide range of players, some of the most common effects often found on classic amps have been incorporated into the range of Blues Cubes:
All Blues Cube amplifiers feature a remarkably good quality on-board REVERB. Rather than using a traditional spring reverb tank, the Blues Cube features a studio-quality reverb algorithm to deliver complex, 3-dimensional tone. The Blues Cube reverb lends remarkable depth to the sound without ever overshadowing the fundamental guitar tone.
Each amplifier channel also features switchable BOOST and TONE switches:
BOOST offers a front-end gain boost. It has a similar effect as adding an extra preamp gain stage to the amp; lending the tone more drive.
TONE is similar to a "bright" switch but with a more finely tuned response than a traditional amplifier. It can be used to add clarity and edge to the tone without ever becoming harsh.
FLEXIBLE OUTPUTS
The modern guitar player demands flexibility – a trait which all Blues Cube amplifiers exhibit. Every Blues Cube features a Speaker Emulated LINE OUT for direct connection to a PA or recording console (no mic required) and a PHONES output for silent practice.
Incredibly useful is the USB REC OUT interface. By connecting a USB 2.0 cable between the amp and a computer, the audio of the Blues Cube passes directly into a DAW with no mic or audio interface required. The guitar signal can even be captured directly from the amp's input jack and used later for re-amping.
PRODUCT LINEUP
Blues Cube Hot
(available in Vintage Blonde or Black)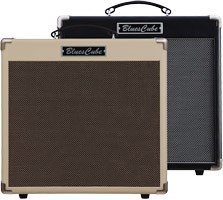 The Blues Cube Hot may be the smallest amp in the Blues Cube lineup with stripped back features, but it's no bedroom noodler amp. This 30W monster is a fully expressive musical instrument and far more gig-worthy than its tiny form might suggest.
Many players love the sound of a small amp. They have an ability to cut through a mix beautifully and have been favourites of studio pros for years. The BC-HOT will certainly deliver focused "little amp" sounds but this little brute has the ability to create tones that sound much bigger than one could ever expect.
The BC-HOT is loaded with the same Custom Tuned 12" Speaker as found in all of the Blues Cube combo amps. Created specifically to match with the unique Tube Logic power section, Roland's V-12 80 speaker offers a wide ranging frequency response and a classically familiar midrange response.
Overall, the BC-HOT is a great sounding single-channel amp, and for many, is the real honey of the Blues Cube range. In a large club, you might run out of clean headroom – but there's plenty of gristly sounding overdrive goodness to hang with a drummer on a decent sized stage as you turn up the volume. Of course with the POWER CONTROL, you can dial that exact tone back down to bedroom volume.
Best Choice for: Players who want no frills, raunchy tweed tone in a portable package.
Blues Cube Stage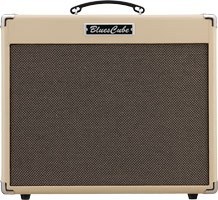 Not all players wish to have the broad tonal spectrum that a physically large amp provides. Many players prefer the silky warm tone that comes from an amplifier with a 12" speaker loaded into a small-ish cabinet.
With this in mind, the Blues Cube Stage successfully evokes the vibe of the famous narrow-panel "Tweed Deluxe" amplifier – sometimes called the most recorded amp in history. Compared to larger amps it has a slightly tailored off bass response (without ever sounding thin), and a vocal range that ensures audibility in even the densest mix.
The BC-STAGE is the first amp in the Blues Cube lineup to feature channel switching between CLEAN and CRUNCH tones. A notable feature is the addition of the DUAL TONE function that combines the two channels simultaneously. This stacking feature provides your overdriven tones with an added clarity from the parallel clean channel. CHANNEL SELECT and DUAL TONE are accessible via foot-control using an optional FS-6 / FS-7 or 2 x FS-5L footswitches (sold separately).
HIGH and LOW impedance inputs allow for optimal dynamic response with either regular passive or active pickups. The BC-STAGE is a player's amp indeed, and with 60W of max output power, there's ample headroom for any club stage.
Best Choice for: Players who love the musicality and focus of medium size amplifiers.
Blues Cube Artist
(available in Vintage Blonde or Black)
BLUES CUBE ARTIST 212
(available in Vintage Blonde only)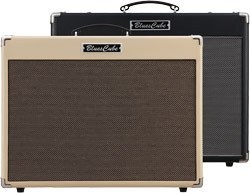 Within the Blues Cube range, the Blues Cube Artist is the most fully featured combo amp in the lineup. It carries a bold, expressive voice favoured by players who are familiar with 6L6-powered amplifiers.
Big lows and sparkly highs are available on tap in this amplifier, as well as the sweet tweed midrange voicing that exemplifies all of the Blues Cubes.
Available in either 1×12 (BC-ARTIST) or 2×12 formats (BC-ARTIST-212), this 80W amplifier delivers its tweed-inspired tone and feel with the punch and authority players expect of any high powered tube amp… all in a remarkably light package.
Along with all the features of its smaller brethren, the BC-ARTIST brings a few other pro tools to the table. The PRESENCE control enables the user to fine tune the amplifier's attack response. A vintage-style TREMOLO effect evokes the classic amps of the 1960's but with the modern functionality of a Tap Tempo control. The BC-ARTIST also features a switchable FX Loop.
The optional addition of Roland's 6-button GA-FC foot controller (sold separately) allows remote access to CHANNEL SELECTION, DUAL TONE, BOOST, TREMOLO, EFX LOOP, TAP TEMPO and MASTER VOLUME.
Best Choice for: Players who need big tone and the firepower to cope with all stage sizes.
Blues Cube Tour
(available in Vintage Blonde only)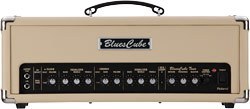 Packing 100W of power, the Blues Cube Tour is ideal for the guitarist needing the power to deal with the biggest of venues one night, and a smaller club gig the next.
Any guitarist who has played with a head-and-cabinet setup knows how heavy that can be! But inside the BC-TOUR's rugged, yet lightweight head format, is a suite of professional features making the BC-TOUR the flagship of the Blues Cube range.
Though it eschews the Tremolo effect found in the BC-ARTIST, the BC-TOUR adds a slew of features unique to this model:
INDEPENDENT CLEAN/CRUNCH EQ
Clean and overdriven tones require unique tone shaping and EQ'ing. Sharing EQs between channels means a compromise to your clean tone, drive tone or both. But, the independent EQs in the BC-TOUR means there is no need for compromise when it comes to your tone.
DUAL EFFECTS (EFX) LOOPS
You can run two different effects chains in between the amp's preamp/power amp sections and switch them remotely. The loops are selectable for either series or parallel operation.
LINE OUT
While all Blues Cube amps feature speaker emulated LINE OUT, the BC-TOUR offers it via XLR output – for noise-free tone with no signal loss over long cable runs.
MIDI IN
This enables the switching of the main tone controls via external MIDI devices. Using MIDI makes the BC-TOUR easy to integrate into complex guitar rigs that can sit on any place on the stage.
For touring bands who have deal with primarily rented backline, the incredibly lightweight (8.0kg) BC-TOUR opens up the option to be able to take the head on tour – for consistent guitar tone from venue to venue – even with rented speaker cabs.
When paired with its own matching 4×10 open-backed cab (Cabinet410) – the BC-TOUR evokes the spirit of some of the most sought-after vintage 4×10 blues/rock amplifiers of all time.
Best Choice for: Players who want the ultimate in vintage tone with big power & modern flexibility.
THE TONE CAPSULE (BC-STAGE / BC-ARTIST / BC-TOUR ONLY)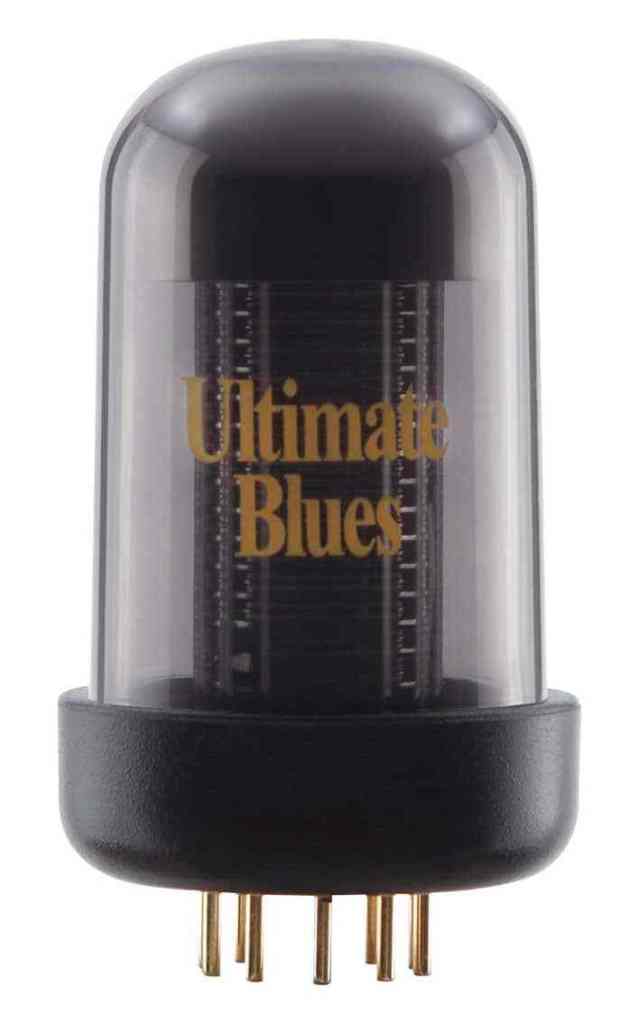 Blues Cube Ultimate Blues Tone CapsuleAs we read earlier, the starting point for Tube Logic was to learn how a 50's era tweed Fender amp operates. This research led to building a modern amplifier that can mimic its precise electronic behaviour – achieved by using ground breaking solid-state audio engineering. However, a key part of the concept was the ability to control all these interactions using DSP.
A Tone Capsule is an integrated DSP device that, when plugged into the amplifier, reconfigures its internal architecture completely to enable a new set of circuit interactions in the Blues Cube. This essentially means that by changing the Tone Capsule, the Blues Cube amp can shed its Tweed –inspired tone and assume an entire new personality.
In a tip-of-the-hat to the classic amps that inspire the Blues Cube, the Tone Capsules are tube-like devices in form, plugging into an outlet in the rear of the amplifier that looks rather like a tube socket, giving the user a bit of a "tube fix".
Check out all combo amps from the Blues Cube Lineup at our Fender/Roland stores in Phnom Penh and Siem Reap. Or shop online at our amp section here >> www.soundskool.asia