Soundskool Music Toul Tom Pong / Grand Opening!
**Date**: Saturday 27th October, all day from 10am **Location**: Soundskool Toul Tom Pong, corner streets 135/456 (google maps: https://goo.gl/maps/9wq57QzzpTG2) **Reserve**: events@soundskool.asia *Facebook Event:*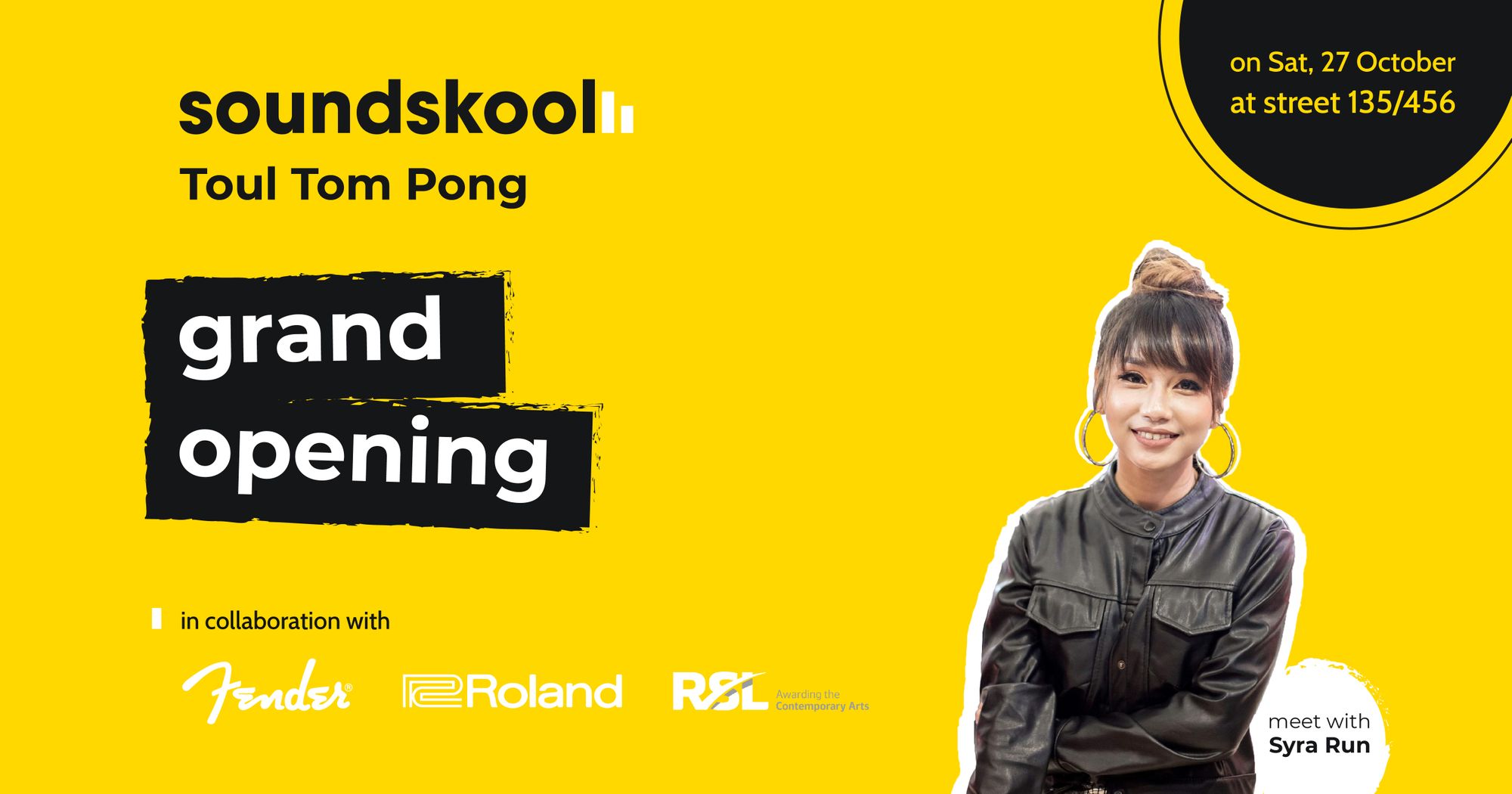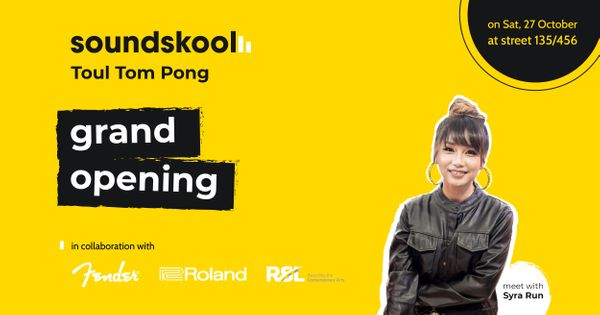 Tickets $0 (Free), book now on www.soundskool.asia
Date: Saturday 27th October, all day from 2pm
Location: Soundskool Toul Tom Pong, corner streets 135/456 (google maps: https://goo.gl/maps/9wq57QzzpTG2)
Facebook Event here >>
The Soundskool team are excited to announce the grand opening of our newest store/school location at Toul Tom Pong (Russian Market)!
To mark this special occasion, we are throwing a grand opening party with live music from some khmer stars & exciting emerging talent, shop tours, presentations of our music school programmes, plus awesome prize draws, food, drinks and goodie bags!


Ready to play? Excellent, because Soundskool's mission is to inspire and bring people together through music and friendship. You're right up our street! Find fresh and creative music courses for you or your family and check out our cool music stores with top brands like Fender, Roland, Aria, Conn-Selmer and many more. Find us in Phnom Penh and Siem Reap.
If you don't know about Soundskool, take a look around our Blog and don't forget that we also are Cambodia's largest Online Music Store with almpost 1,000 products.
We #loveyourmusic
Performances & activities
*Headlining the day will be Khmer Original Artist Syra Run, along with talented students and teachers. Also, there will be fun activities for children under 5 years of age, instrument demos for 8-12 years olds, course presentations, music store tours and much more!
Sounds cool? Then join us on Saturday 27th October, 2pm-6pm, when we'll be flinging open the doors to you! Come on down and welcome us to the neighbourhood!
Prizes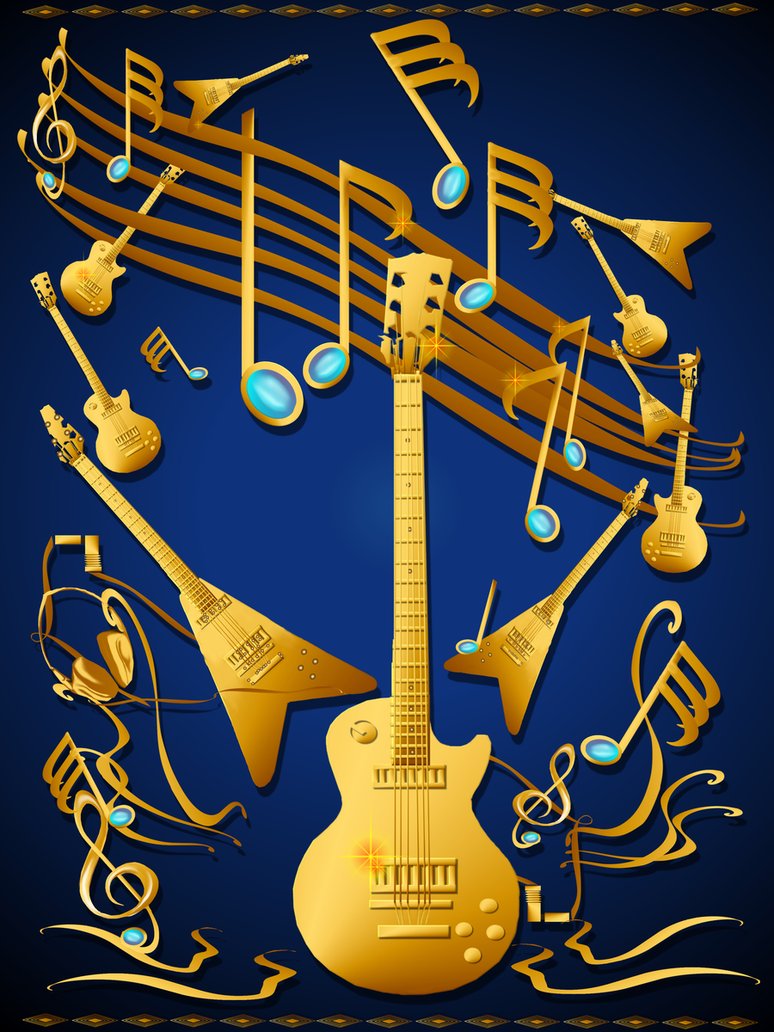 We'll be giving away a Roland go:keys keyboard to one lucky guest, plus an Aria Classical Guitar and many more cool, music-related prizes to be drawn on the day.
To join us for the party AND to be in with a chance of winning one of the many prizes on offer, all you have to do is book your place! for the free day of music and entertainment!
Design
Located at the corner of st. 135 & st. 456, Soundskool's brand new store in Toul Tom Pong is designed by Hok Kang Hok Kang Architects (the same who designed Raintree offices and Brown Coffee stores, amongst many others). HKA's young and talented design team managed to work around a small space but still created a fresh, stilish and pro looking store. We hope that our customers will enjoy it!
Support
Thanks to everyone who is involved in the opening of our brand new SoundsKool store in Toul Tom Pong, amazing to finally be in Rusian Market! Special thanks to The Piano Shop Cambodia team, and to Roland Musical Instruments Cambodia which by the way made some sensational keyboards this year (we're giving one away for our guests!), but also some of the greatest rock and acoustic/vocal amps to come out in 2018. Check out all our Roland products on our Soundskool Website >
Thanks to all the Soundskool ground staff and administration for their great work - this wouldn't happen without you! Thank you Vanneth, Han, Lita, Leak, Panda, Evie, Mey Mey, Heang, Matt, Yada, Pitou, Sreymach, Rolen, Yourt, Misato, Satoko, and Ai for you insignt, help, support and belief in Soundskool!
As always, Soundskool staff will be on hand to help you with all your needs, whether you're looking for a new Fender guitars, Roland digital pianos and keyboard, or to you want to sign up to one of our fun and exciting music courses and programs at soundskool!