Best Beginner Acoustic Guitar
Are you a beginner looking to buy yourself your first acoustic guitar? Read here for a guide.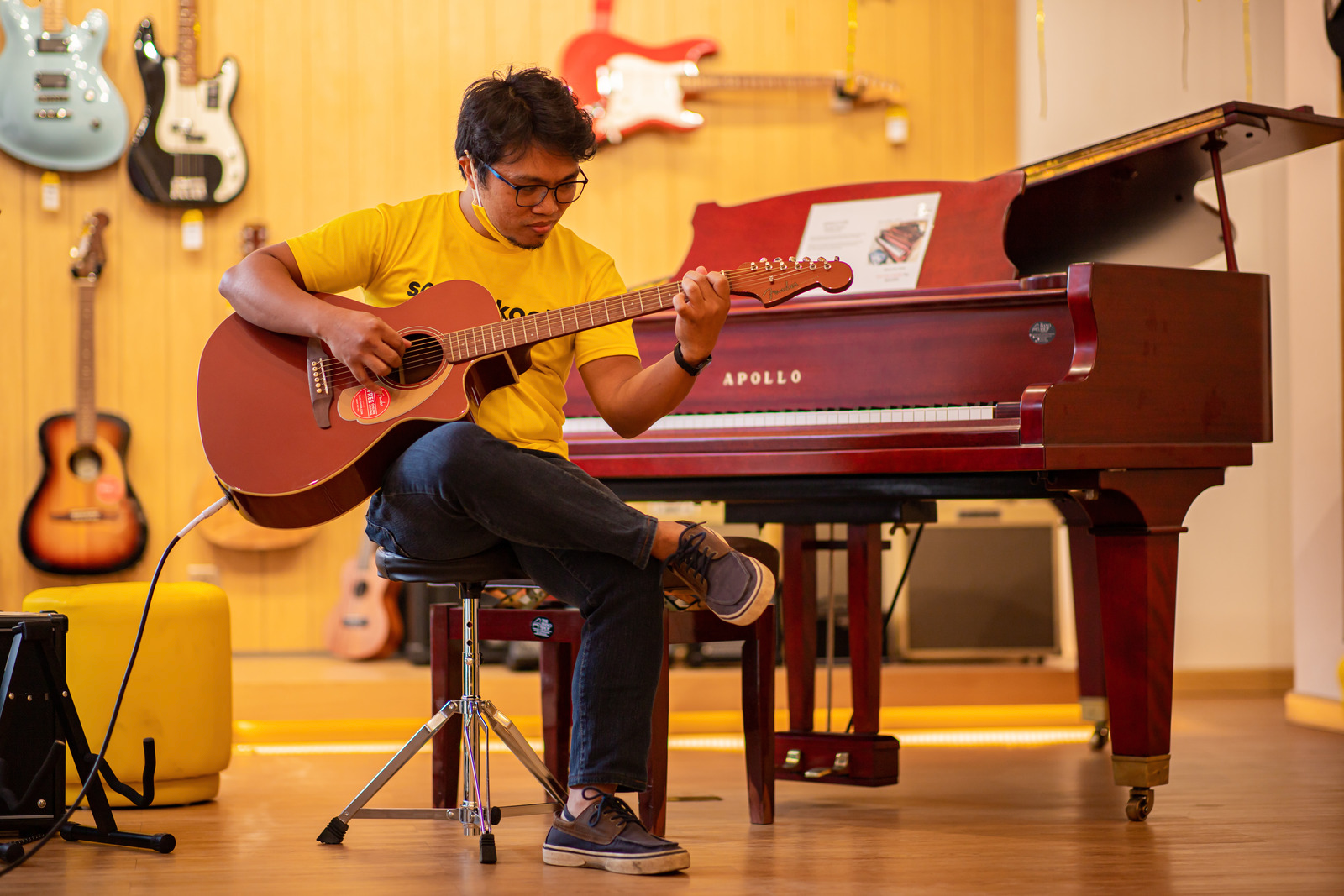 Are you a beginner looking to buy yourself your first acoustic guitar? Here are a few things that you need to consider before making the purchase.
---
Buying your first guitar can be a tough decision to make as you don't generally know what to look for. Sometimes it is not always about the price, you want to choose something worthwhile that you hopefully keep forever - "your first guitar".
While some people's options maybe limited by their knowledge on guitars in general, doing a little bit of research can help you a whole lot in choosing the right guitar to start your music journey.
In this article we will help you do just that by bringing up three aspects that you should pay careful attention to when choosing an acoustic guitar in Cambodia.
#01. Sound Preference
For acoustic guitars, they are generally categorized into two types: nylon strings and steel strings. Both of which give off different tones and vibes, so pick one that suits your taste.
Nylon Strings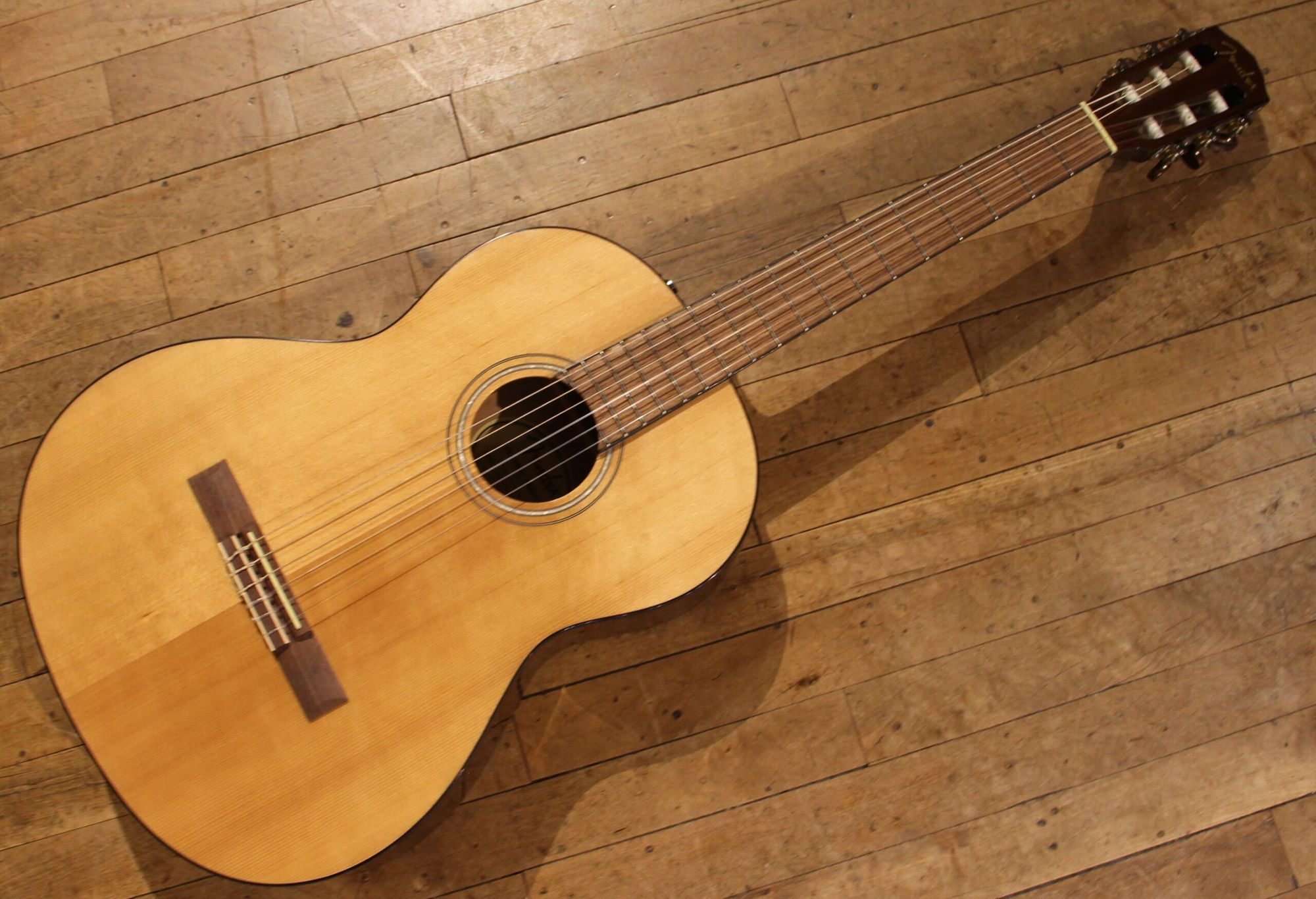 A Nylon-string guitar gives a mellower sound, and is often used for the sounds of jazz or classical. Some say that it gives a kind of Spanish-style sound. So, if you are into that, then Nylon-string guitar is for you.
Steel Strings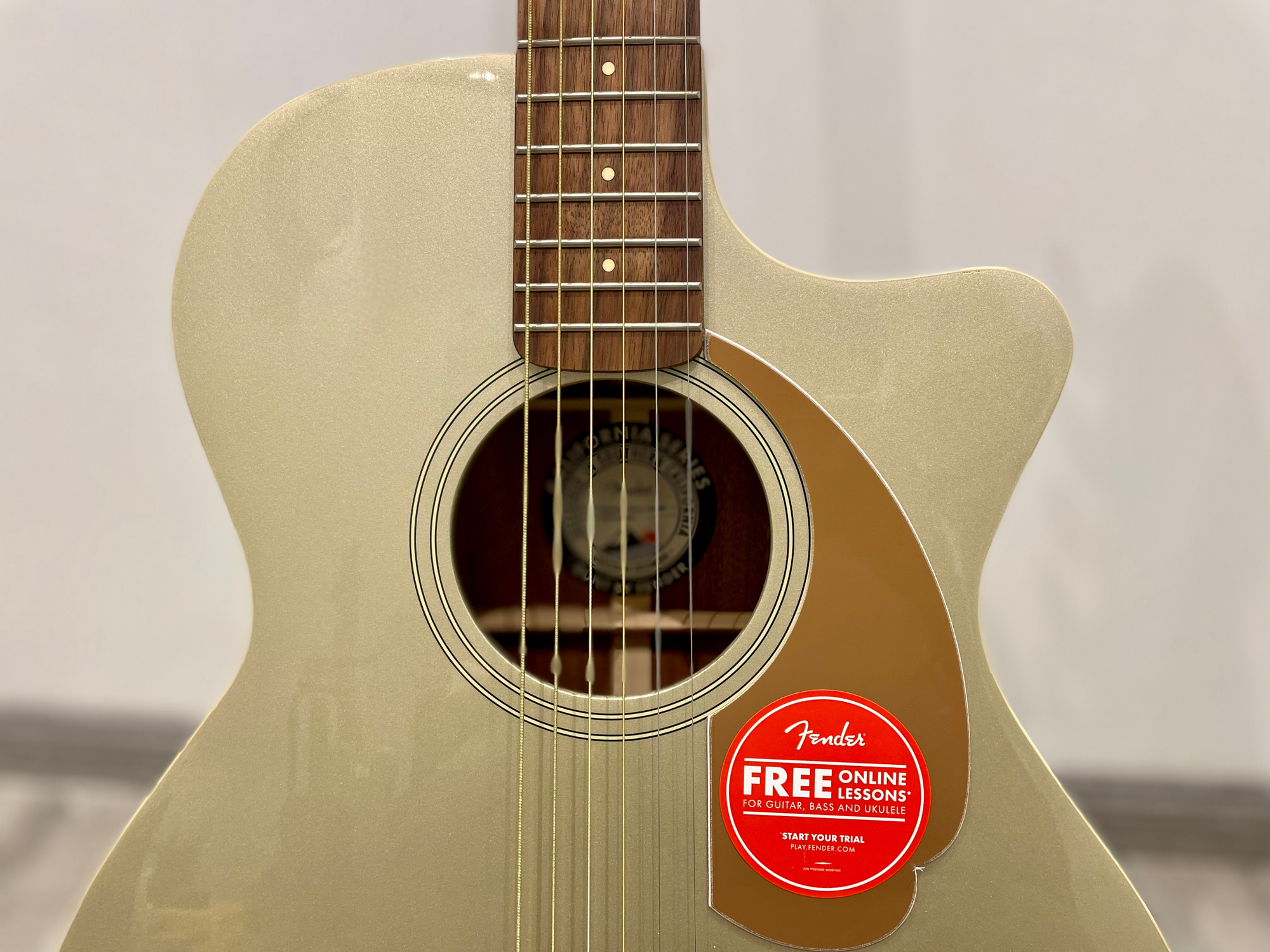 Whereas steel strings have a brighter tone and higher volume. The sounds of steel-string guitars are often referred to as "the cowboy chords" and have a kind of folky acoustic tone. So, if your preferred playing style fits this description, then steel-strings guitar should be the option for you. In Cambodia, steel string guitars are very popular.
#02. Body Shapes and Sizes
For the guitars' body shapes and sizes, it's important to choose what is comfortable and feels right for you. The shape and size of a guitar can affect its sound and volume, the bigger the body, the higher the sound so to speak. So, don't limit your options yet, try around a few and see what fits your liking both the guitar's physical form and sound.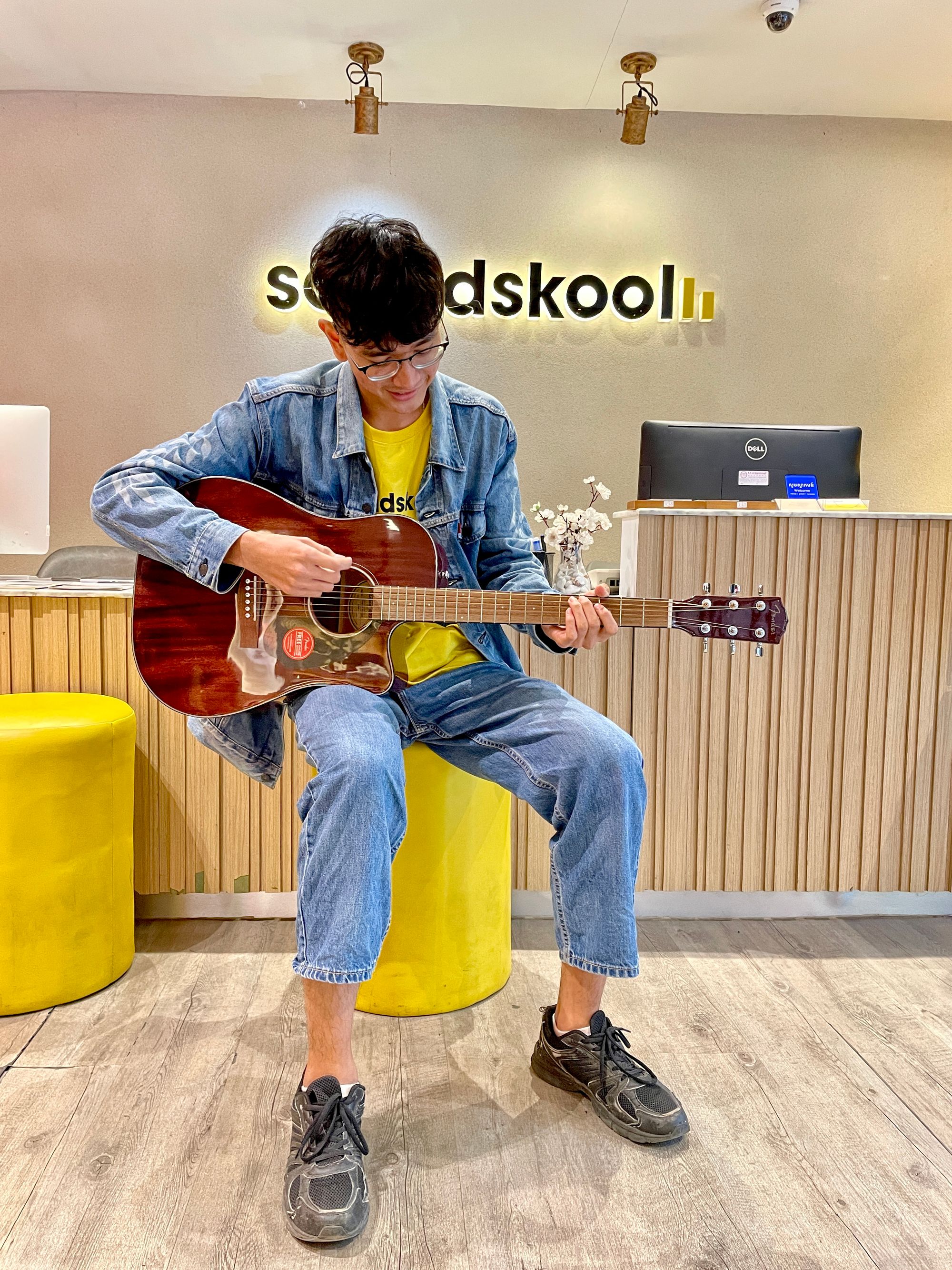 Let's have a look at three most popular shapes and sizes we generally see of acoustic guitars in Cambodia.
Dreadnought
The dreadnought size is generally what comes to mind for most people when thinking about acoustic guitars. They are larger and have a broader body which gives a louder sound with tremendous projection and booming bass, suited for playing in a band.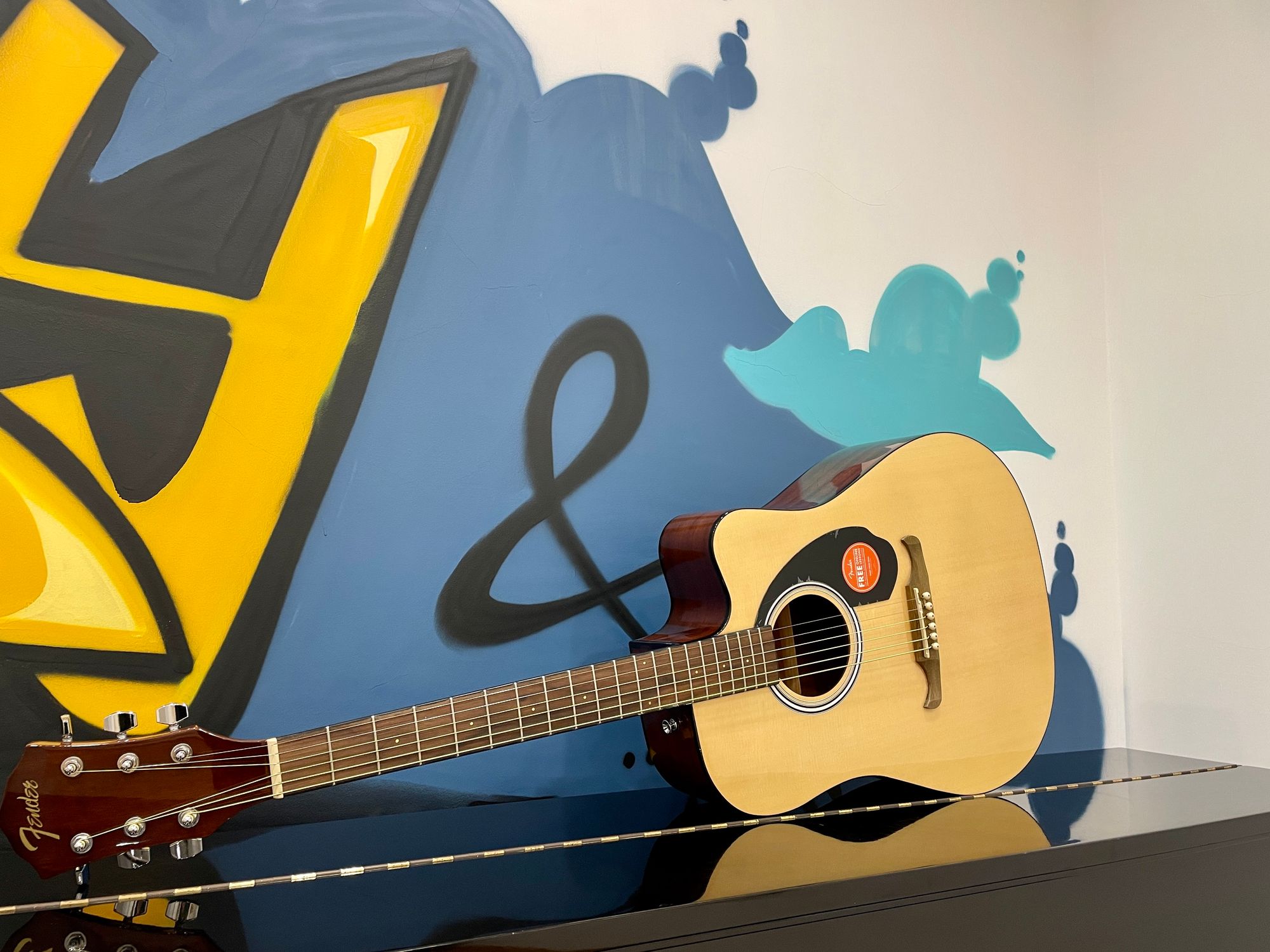 Malibu and ¾ Size
Your first guitar doesn't have to be small, but if you do prefer to start with a smaller guitar, you can go for something like a malibu or a 3/4 size guitar. This type of guitar gives you easy access to move around the instrument as it has a smaller body. You can easily put your arm around the guitar and play, and with its shorter scale length and smaller nut width, it's easier for you to move from fret to fret and from string to string.
This type of guitar is perfect for carrying in the back for your camping trip.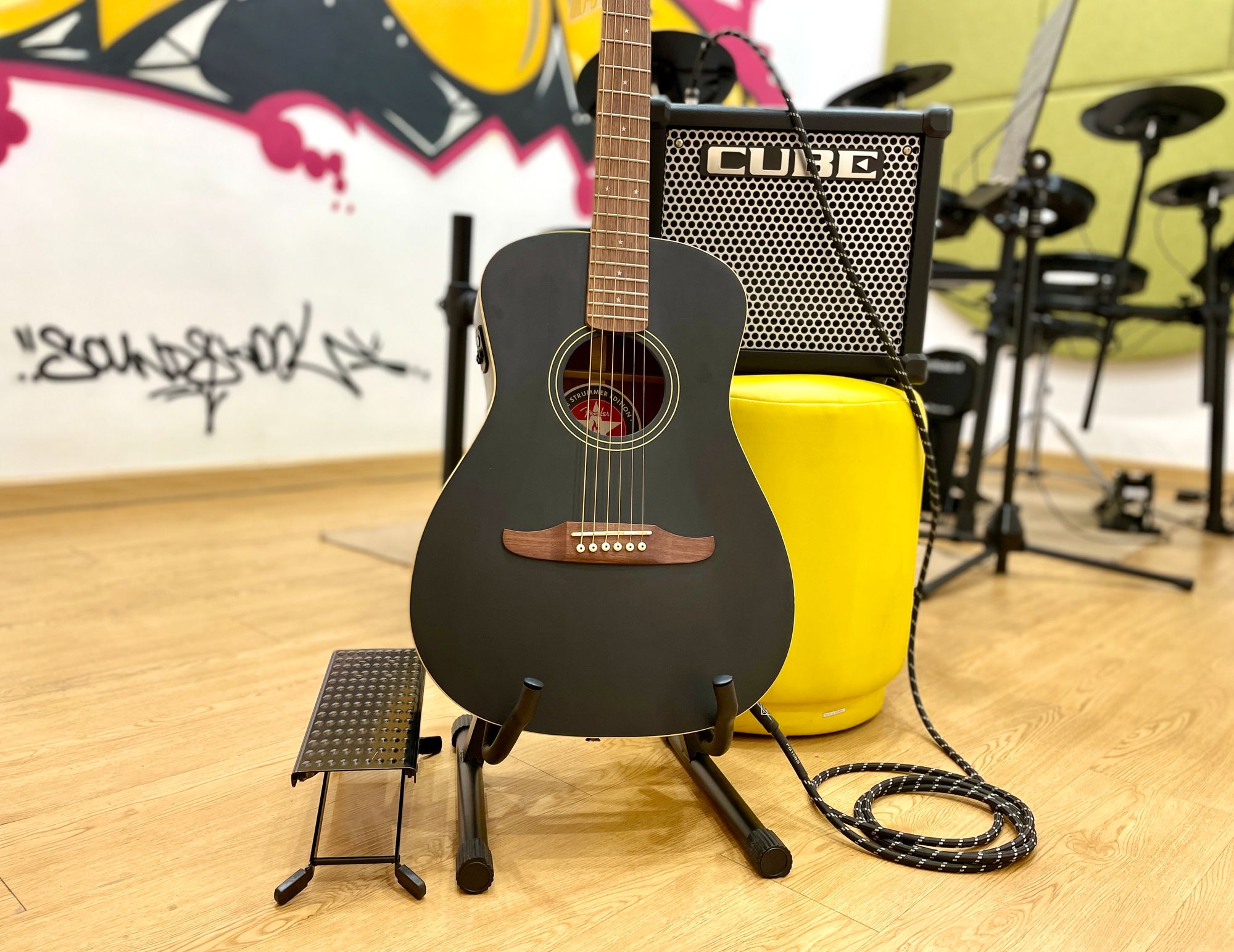 Cutaway
A lot of guitars that have the added technology which is an amplifiable function, you will see most of them come in the shape like the picture below with its upper neck indented. With the guitar that can be amplified, the size of its body becomes less important, so if you are interested in having your guitar with a little shred, then you can opt for the cutaway.
This type of guitar also makes it easier for the player to play with the lower frets.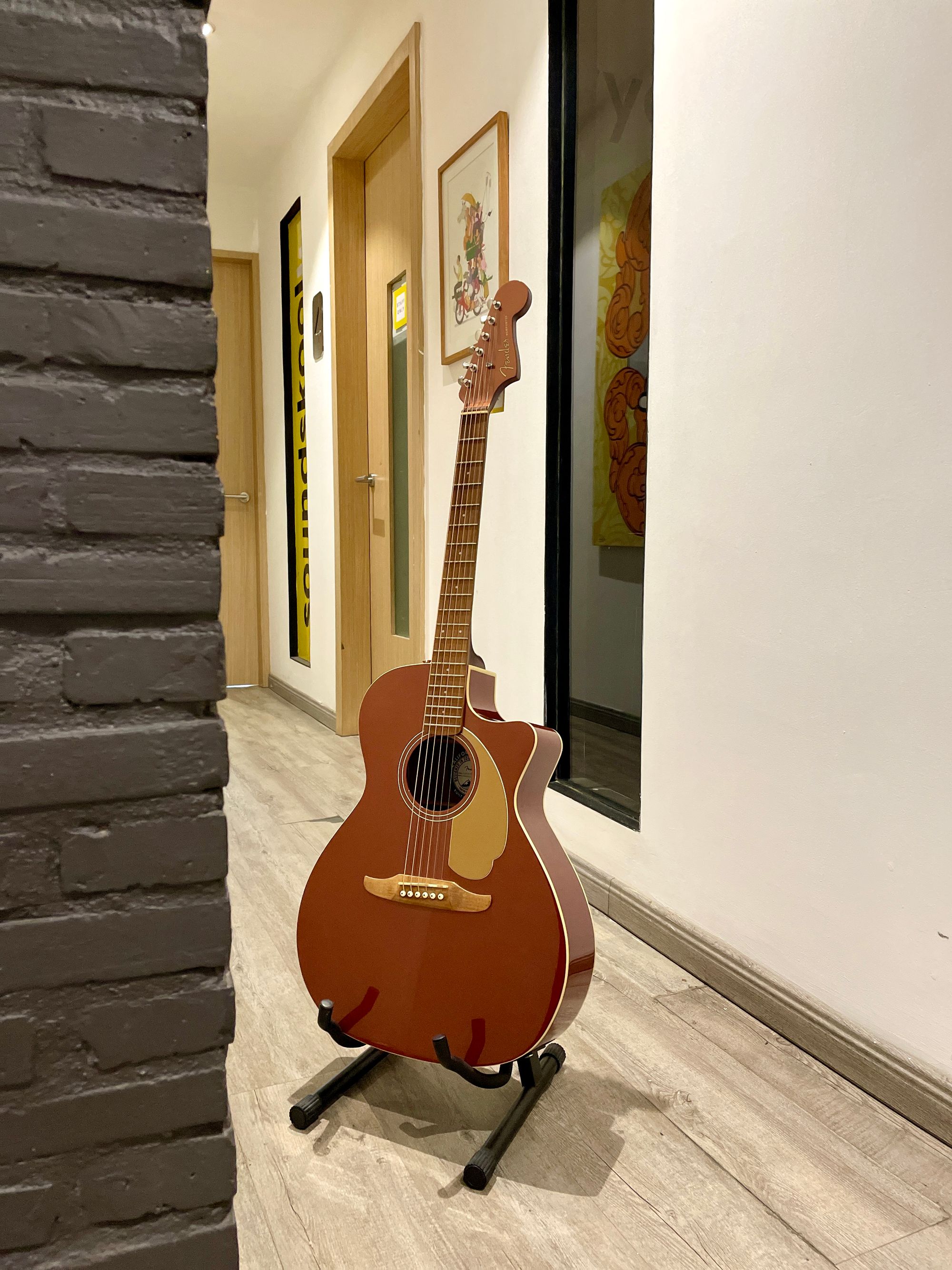 #03. Wood Type
For the materials that the guitar is made out of, there are two types for you to choose from. Your guitar is either made out of solid wood or it is made out of something called laminate–a thinner layer of wood compressed and held together with other layers of wood with glue.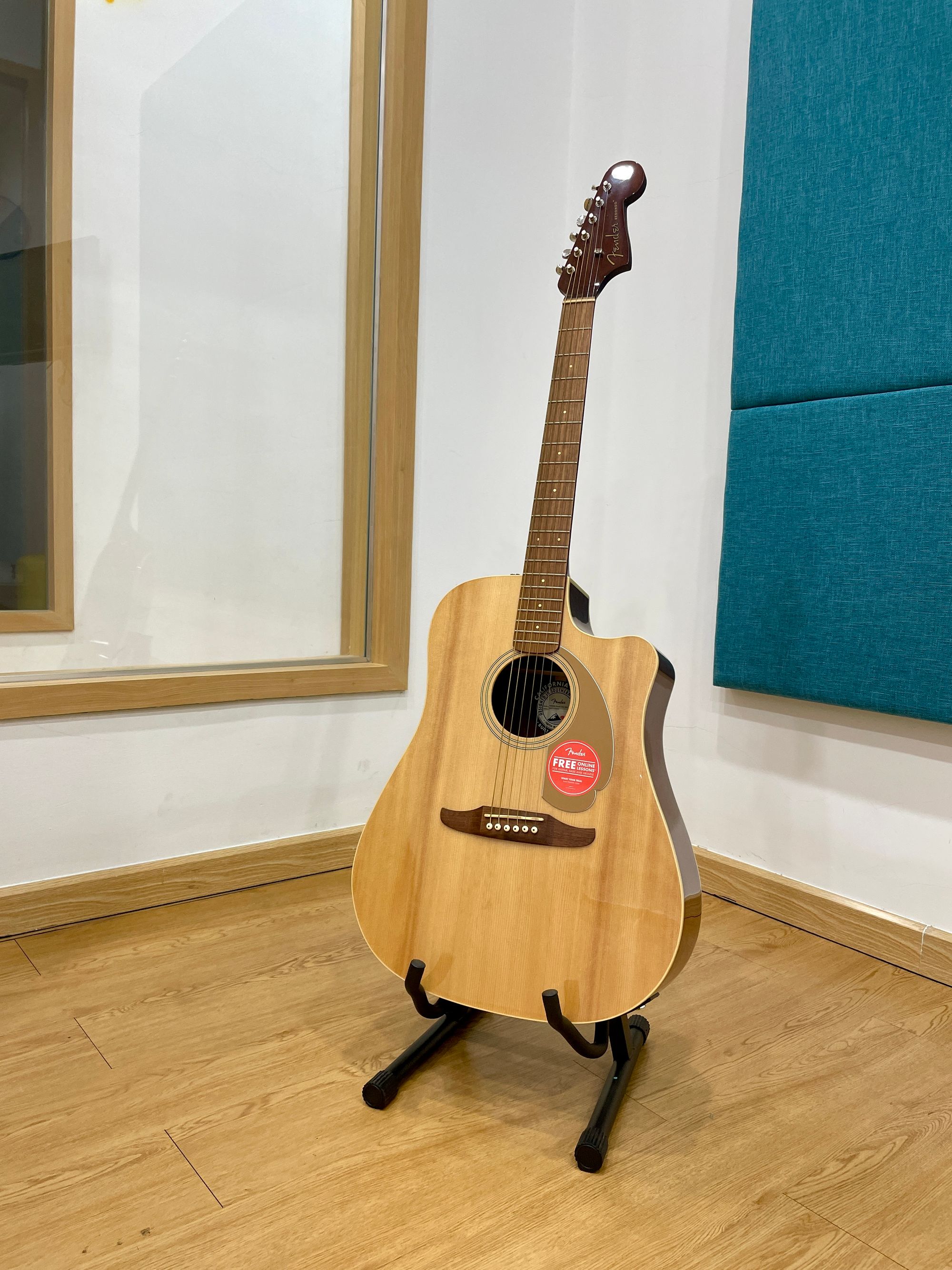 This factor is important as the wood that the guitar is made of can affect the tone and sound of your guitar. If you want a brighter and better acoustic tone, then you would want a guitar that is made with solid wood.
However, if you want something that is more endurable to the changes of the environment like humidity, then a laminate guitar would be a better pick for you. It's easier to maintain and take good care of because you don't have to worry about it being sensitive to the weather.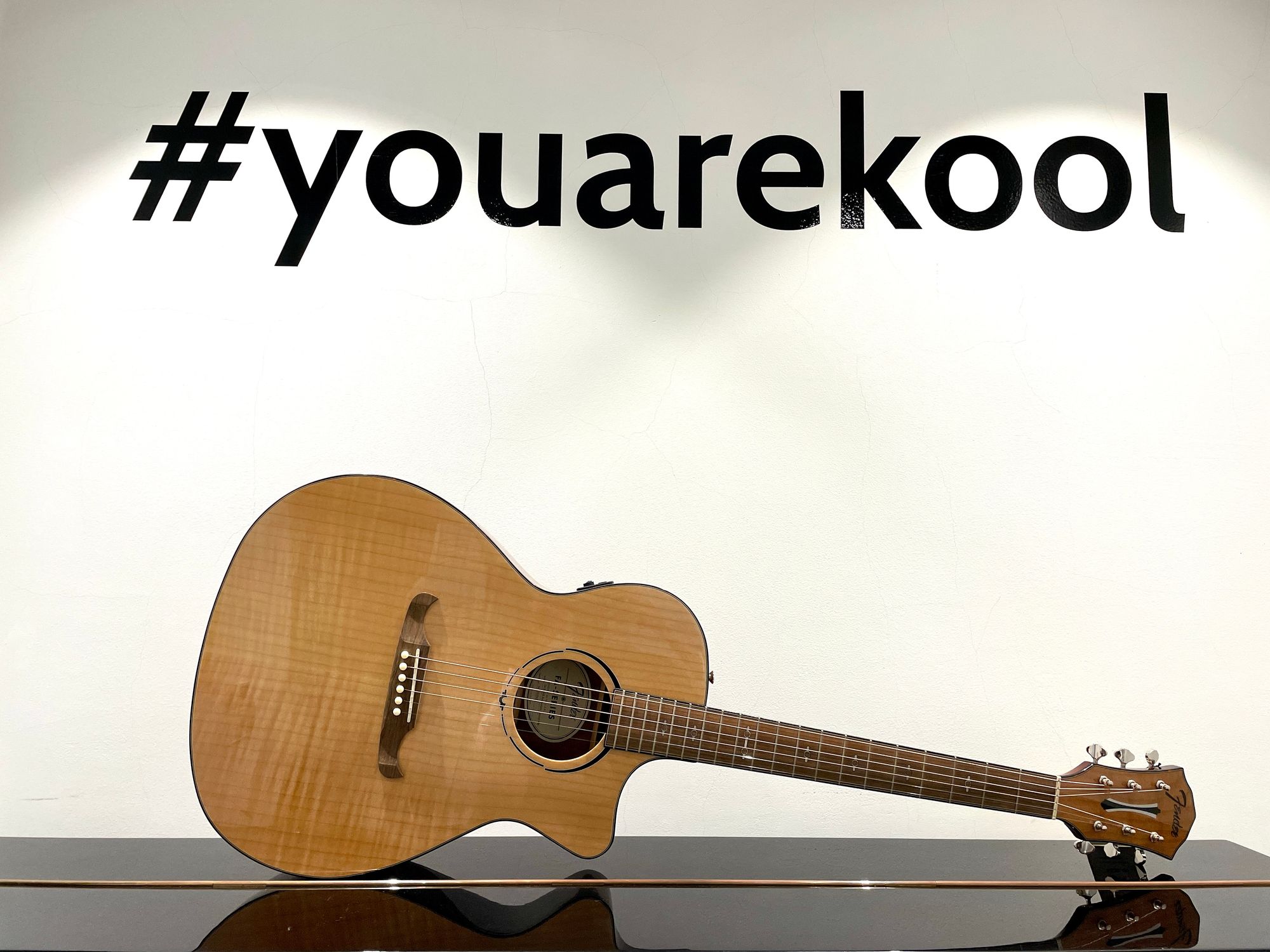 ---
Price Range: You should spend no more than $200 to $500 for a good acoustic guitar.
So, these are the things that can help you narrow down your pool of options to choose the right guitar to start your learning journey with.
If you live in Phnom Penh or Siem Reap, visit one of Soundskool stores and see what we have to offer. Soundskool has a variety of best-quality and affordable Fender acoustic guitars for you to choose from.
Visit Soundskool stores: Toul Kork, Toul Tom Poung, Norodom, Siem Reap
Visit Soundskool website to take a look at Fender acoustic guitars collection: soundskool.shop/acoustic-guitars
Any question to help you choose your perfect acoustic guitar? Contact us.
Telegram: Toul Tom Poung, Toul Kork, Nodorom, Siem Reap
---
Soundskool, the only Fender's authorized distributor in Cambodia. fender.dealers-distributors/continent=asia/Cambodia
---